2020 Mercedes-Benz GLC
2020 Mercedes-Benz GLC
GLC 300

Drive precisely as you see fit with help from the Dynamic Select multi-mode programselector, which helps you determine the vehicle's character and driving style by merely flipping aswitch. Change up the throttle response with Comfort, ECO, Sport, or Sport+ modes. You can alsocreate a fifth, personalized mode as you see fit.

GLC 300 4MATIC®

Kick handling up a notch with 4MATIC® all-wheel drive, which ensures thattorque is directed to the wheels that require it most at any given time. With this advanced all-wheel-drive system, you can enjoy greater confidence when maneuvering in slippery areas or in roadconditions that are otherwise less than ideal.

GLC 350e 4MATIC®

This trim adds not only the handling confidence of 4MATIC® all-wheel drive butalso the efficiency of a plug-in hybrid. Despite delivering an exceptional EPA-estimated fuel economyof 55 city miles per gallon and 57 miles per gallon on the highway, the vehicle manages to maintainimpressive power.

AMG® GLC 43

Take on the best of the sports car experience while driving in this athletic trim, whichplaces you at the center of a sleek and sophisticated cockpit. Make the most of a sporty flat-bottomedsteering wheel and model-exclusive performance readouts. Bolstered seats provide plenty of supportto ensure full comfort.

AMG® GLC 63

This trim's innovative user experience system allows you to take over a myriad ofvehicle functions by just using your voice. The system makes the most of artificial intelligence toensure an exceptional driving experience. Further control is afforded by providing an advanced Racesetting to join the vehicle's other Dynamic Select modes.
2020 Mercedes-Benz GLC dealer near San Diego
The 2020 Mercedes-Benz GLC offers pure sophistication behind the wheel. This impressive SUV isloaded with features designed to maximize power and handling while also ensuring an elevatedexperience for drivers and passengers. The vehicle has a 2.0 liter inline-4 turbo engine that creates 255horsepower and 273 pounds per foot of torque while allowing it to accelerate from 0 to 60 miles per hourin a mere 6.1 seconds. AMG® models amp up the power to go from 0 to 60 miles per hour in 4.7 secondsfor the AMG® GLC 43 trim and 3.8 seconds for the AMG® GLC 63. Blind Spot Assist is included to makeeverything from maneuvering the vehicle to exiting safely that much easier.
Isn't it time to experience the thrill of driving the 2020 Mercedes-Benz GLC around the San Diego area?Swing over for a test drive at Mercedes-Benz of El Cajon today.
Interior Overview
Luxury defines every element of the 2020 Mercedes-Benz GLC interior, which includes upscale seating,plus an impressive sound system and modern technology. Apple CarPlay and Android Auto and their integration are offered with all models to ensure that drivers and passengers can always find somethingappealing to play over the cabin's audio system. The 10.25-inch touchscreen controlled via a console touchpad or controls on the steering wheel. LEDambient illumination brings 64 beautiful colors to the vehicle's interior. Optional in-car WiFi can be addedto keep up to eight devices connected at all times.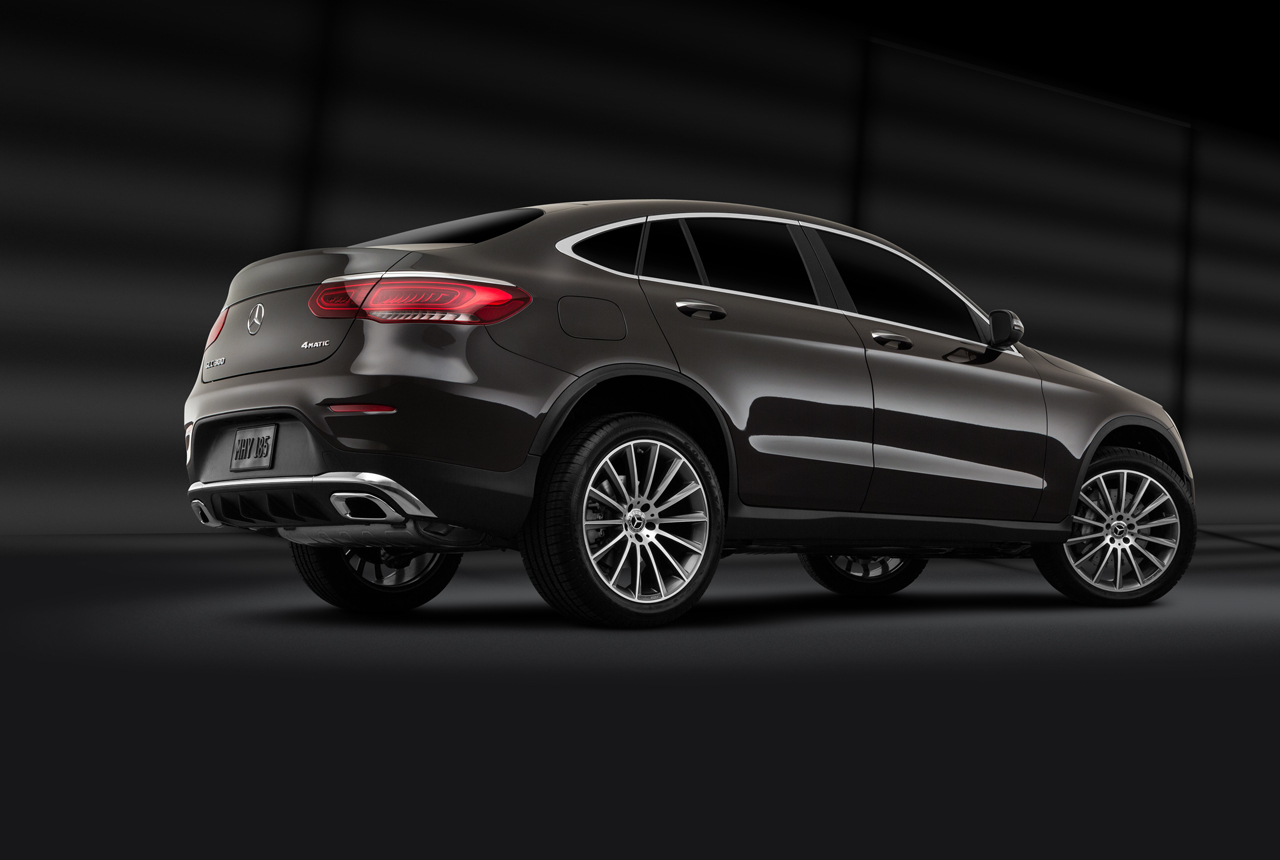 Exterior Overview
The 2020 Mercedes-Benz GLC makes its mark with sleek yet bold exterior design with several eye-catching details. Standout features include the SUV's long wheelbase and hood. All-LED illuminationprovides excellent lighting for the vehicle's front and rear.The vehicle's anodized roof rails have a low profile. The available chrome diamond-block grille features aunique texture made up of individually shaped hexagonal pins meant to amp up airflow and aesthetics.The grille also includes a chrome-finished crossbar with a silver surround. A variety of distinctive exteriorcolors are available, including Obsidian Black Metallic, Lunar Blue Metallic, and Mojave Silver Metallic.
Request Information
Learn more about the Mercedes-Benz GLC by filling out the form below. A representative will contact you with useful information.