Mercedes-Benz of El Cajon FAQ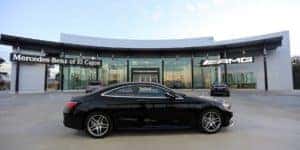 What are the Sales hours for Mercedes-Benz of El Cajon?
Our Sales hours are 9 AM to 8 PM from Monday through Friday; On Saturdays, doors open at 9 AM and close at 9 PM. On Sunday's we are open from 10 AM to 7 PM.
Where is Mercedes-Benz of El Cajon Service Department Located?
Whether you are traveling down N Marshall Avenue from Fletcher Parkway or W Main Street, to get to our Service Department, turn onto Wagner Drive and you'll see Mercedes-Benz of El Cajon on your left with signs to direct you towards the Service Bay.
Can I get new tires at Mercedes-Benz of El Cajon?
Yes! Here at Mercedes-Benz of El Cajon near San Diego, you'll discover the best tires for Mercedes-Benz sedans, coupes, SUVs, and sports cars. Besides a tire change, you can also rely on us for expert tire repair, tread test, and air pressure check.
What is the average wait time for an Oil Change?
At Mercedes-Benz of El Cajon, our dedicated service professionals are available when you need, for what you need and strive to get you in and out as soon as possible. The average time for an oil change usually take around 1 Hour.
How can I set up a test drive appointment at Mercedes-Benz of El Cajon?
Set up a test drive at Mercedes Benz of El Cajon by calling us at (619) 202-4249 and asking for our Sales Department.
How do I apply for financing on a new car?
When looking for a new car and you need financing, use our online Finance form to see if you pre-qualify or see the on-site Finance team.
Where can I buy Mercedes-Benz Auto Parts near me?
Choose Mercedes-Benz of El Cajon when looking for quality OEM parts near San Diego. Use our Online Parts Inquiry form to find what you need or call our parts department at (619) 567-2812.
I need to get my Mercedes-Benz serviced, Do I need to make an Appointment?
There's no appointment necessary with Mercedes-Benz Express Service. With the express service, you can walk in and visit our Service Center, where you can get an Oil Filter Change, Tire Rotation, Battery Service, Air Filter Service, Wiper Blade Replacement or Multi-point Vehicle Inspection, all within an hour or perhaps less. For more information, please call our Service Department at (619) 567-2812.