New Mercedes-Benz GLS
2020 Mercedes-Benz GLS
2020 Mercedes-Benz GLS 450 4MATIC®

Comfort is guaranteed with this model, which keeps boththe driver and front passenger happy with power-adjustable seats that include a heating element anda memory feature. Further comfort is supplied via a dual-zone climate control system, which caneasily be adjusted as needed to provide preferred temperature settings for multiple vehicleoccupants. This climate control system also includes powerful dust and pollen filter.

2020 Mercedes-Benz GLS 550 4MATIC®

This trim takes the personal pampering up a notch withmulti-contour front seats, which include side bolsters and lumbar support. Better yet, a massagefeature is provided to keep the driver and front passenger from getting sore or fatigued during longjourneys. This model takes the vehicle's already stellar audio experience up to the next level with theharmon/kardon® Logic 7® premium sound system, which features over a dozen strategically placedspeakers.

2020 Mercedes-Benz AMG® GLS 63

Exceptional handling is in store with this model, which deliversan extra dose of excitement every time it hits the road. An Active Curve System dramaticallyimproves control when cornering. AIRMATIC® suspension uses electronically controlled air springs toimprove comfort and balance. This suspension system compensates for additional cargo with four-wheel level control.
2020 Mercedes-Benz GLS dealer near San Diego
The 2020 Mercedes-Benz GLS combines sophistication with the excellent capability of an SUV. A varietyof powerful engines are available, including a 3.0 liter inline-6 turbo on the Mercedes-Benz GLS 4504MATIC®, a 4.7 liter V8 Biturbo on the Mercedes-Benz GLS 550 4MATIC®, and a handcrafted 5.5 literV8 Biturbo on the AMG® 63. The 5.5-liter V8 engine can produce an impressive 577 horsepower and 561pounds per foot of torque. Depending on the model, the vehicle can go from 0 to 60 miles per hour,anywhere from 4.5 to 5.9 seconds. An EQ-Boost Integrated Starter-Generator System harnesses thepower of a 48-volt lithium-ion battery and a power supply to improve underhood packaging and reduceweight. This feature, in turn, reduces fuel consumption. Further fuel savings are made possible by anECO-START®, which automatically shuts off the engine when the vehicle is in idle mode and restarts itthe moment the driver lifts off the brake. The Surround View System provides an overhead view of thevehicle's surroundings to assist with low-speed maneuvers.
Do you love the idea of driving a 2020 Mercedes-Benz GLS around San Diego? Stop by Mercedes-Benzof El Cajon today to take a test drive.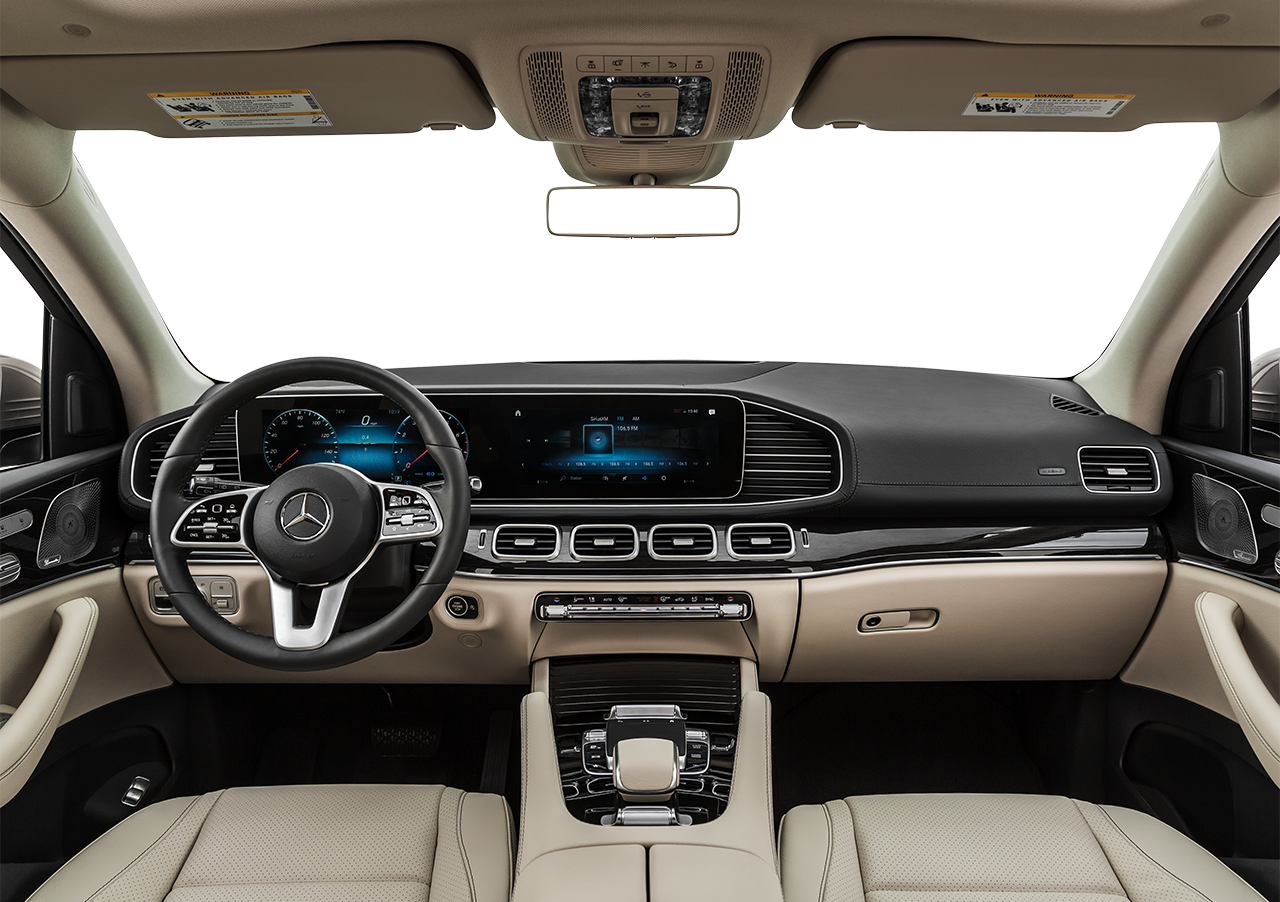 Interior Overview
The 2020 Mercedes-Benz GLS has a spacious and undeniably sophisticated cabin that providesexceptional comfort for drivers and passengers alike. A variety of upholstery options are available to allowdrivers to customize the cabin based on their favored aesthetics. Options include MB-Tex in EspressoBrown and Macchiato Beige, plus leather or Nappa leather in a variety of colors. The cabin has theoptions of aluminum, oak, walnut, or linden trim. All models come with Apple CarPlay and Android Auto,which can quickly be integrated with the in-dash screen and the central controller. SiriusXM satellite radioprovides expanded access to audio options, including commercial-free music from a variety of genres, as well as talk and sports radio. Every trim comes with a network of LED lights available in 64 colors toinstantly set the mood. Different lighting programs are available to ensure that multiple light colors can beused at the same time.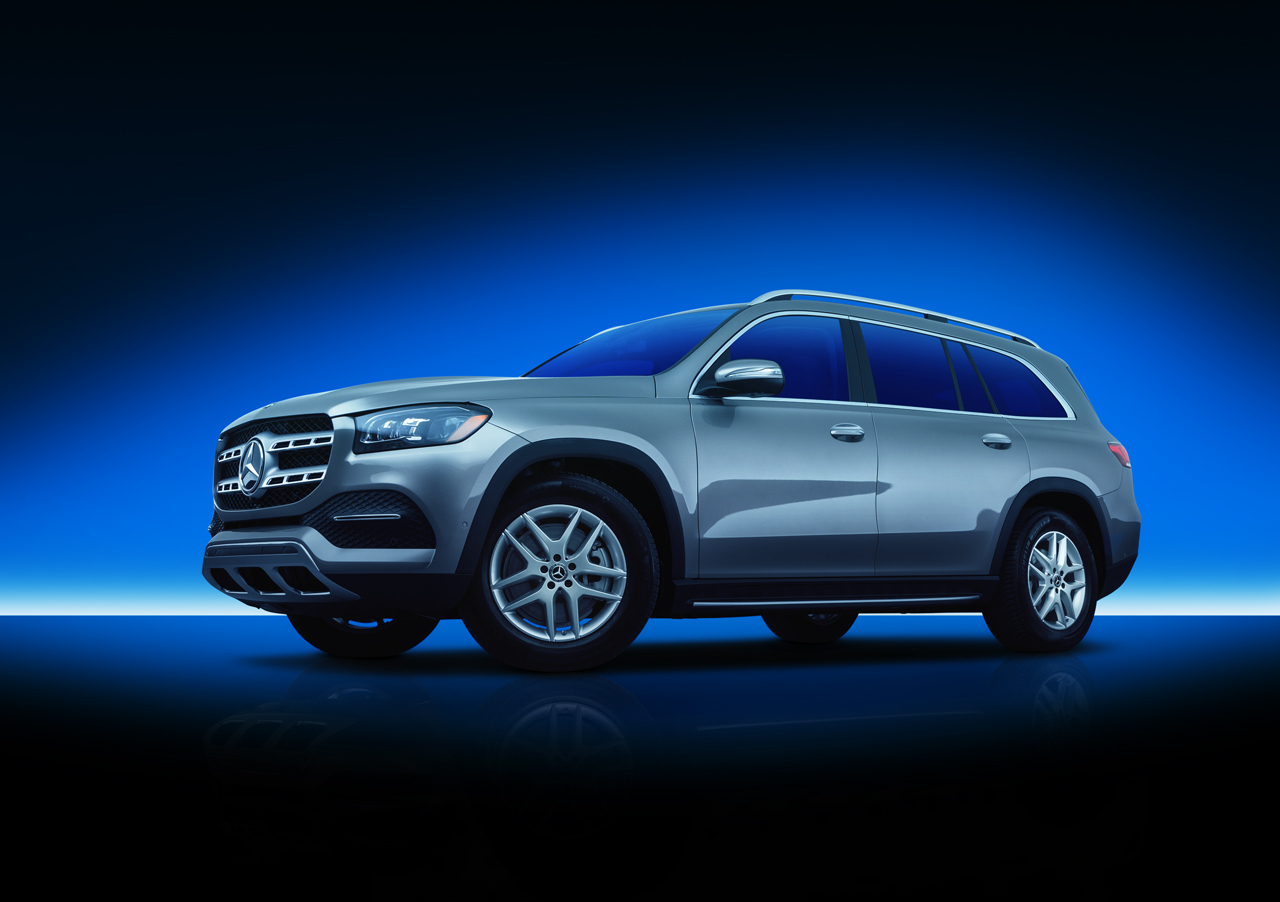 Exterior Overview
The 2020 Mercedes-Benz GLS exudes elegance with its bold, yet refined exterior, which includes avariety of features intended to improve convenience for both drivers and passengers. The power liftgatecan easily be opened or closed with a switch conveniently located on the interior panel for the driver'sdoor. If an obstruction is detected, a strategically placed sensor will ensure that the liftgate stops.Additionally, settings are provided to determine the exact height of the liftgate when opened. A power-adjustable feature allows the exterior mirrors to fold in to make it easier to park in small spaces. Chromedoor handle inserts can be added to elevate the vehicle's already distinctive appearance further. Driverscan choose from a wide variety of gorgeous exterior colors, including Lunar Blue Metallic, Mojave SilverMetallic, and Polar White. Gloss Black accents can be added to the grille crossbar trim, roof rails, and theside mirrors.
Request Information
Learn more about the Mercedes-Benz GLS by filling out the form below. A representative will contact you with useful information.
[1] harman/kardon® and Logic 7® are registered trademarks of Harman International Industries,Incorporated.